Here's the Story......in short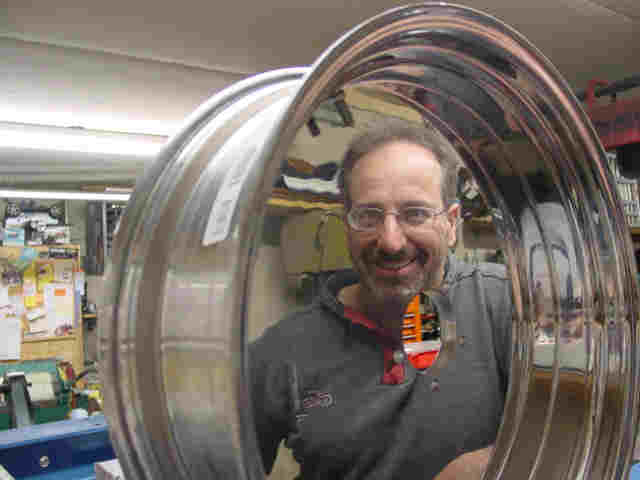 Motorcycle Wheel Straightening / Repair is not rocket science. We have simply raised the bar in the motorcycle wheel repair industry. Appling state of the art technology to the repair process . The equipment used for motorcycle wheel repair was designed and built here at Frame Straight. Our equipment provides a precise and ridged platform , that is freely adjustable. Designed to accept all manufacturers wheels, including single sided swing arm mounted style wheels.

Wheel Dia. 5" to 23" , and width's 1" to 25"
Just as with Motorcycle Frame Repair, there is 3 dimensional access to all points on the hub, spokes and rim. Measurements for centrality, axial, lateral and radial run out are made before, during and after the repair process. The completed wheel will be better than the so called *Manufactures Specification . It is only then can we put our stamp of approval on it.

Our Performance is Guaranteed
* Factory Racing Groups requires less then .015" ( .38mm) run out in any direction. This is the outer limit and when reached the wheel is considered unusable.
Generally wheels leave our shop running at about .000" to .006" T.I.R. ( .00 to .15 mm).
The other mc wheel repair shops will guarantee a T.I.R. Tolerance
from .010" to .080" (.25mm to 2 mm)
That's 2 millimeter !!!!!!!
So, here it is......................
Your satisfaction is guaranteed..... We Promise to you ........If we can not correct your Wheel to better than ... .006" (0.15 mm),....Two times better than factory racing limit spec.
The work that is completed will be FREE !
" We will not return a wheel to you, unless we feel it's perfect, safe and useable ."
If you receive your MC wheel repaired and are not satisfied, I will refund the cost or repair provided the wheel in question is returned to us for inspection and/or resolution. If the wheel is not corrected to your satisfaction the wheel in question will become the property of Frame Straight, and you will be refunded the cost of repair.
If we feel the MC wheel is unsafe and unusable, or if you feel the repair cost is not cost effective to you , there will not be an inspection charge. The wheel can be returned to you in unusable condition, you must request in writing or email ( RJP916@gmail.com )for the return of your property. Note: You are responsible for shipping and handling charges.
Any and all items sent in for repair that are unclaimed for 15 days from our payment request can be discarded and/or will be subject to a weekly storage fee of $5.00 per week.

List of Services Home Contact and Shipping Previous Page

Experience the
Art of Straight